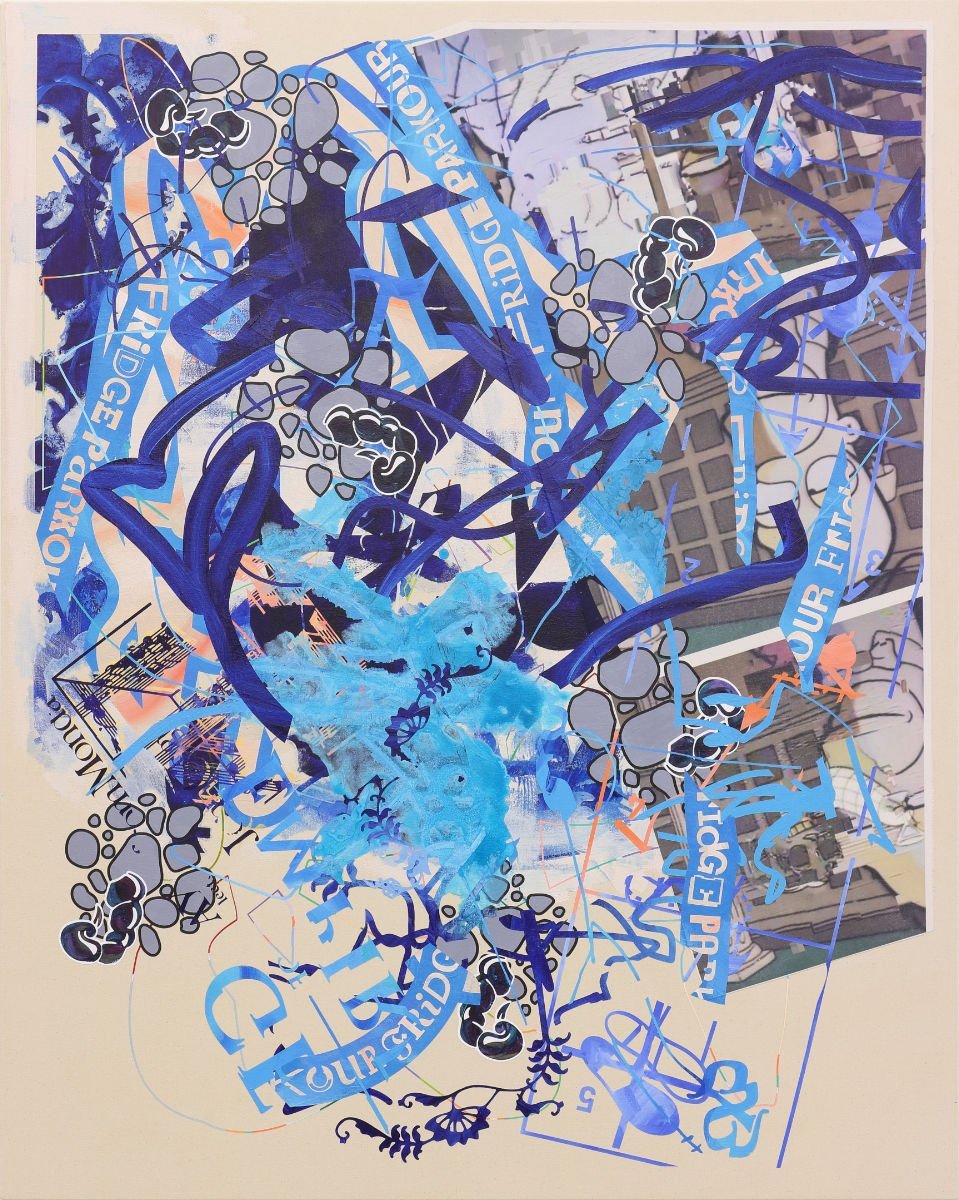 What I'm about
I am a child of 70s/80s North West England, where punk was a spirit, not a pose. Where Hip Hop, House and Techno resonated and thrived. Where life was and still is brutally absurd.
(Scally, DIY, remix, laugh)
I'm trying to deal with the many contradictions of being raised in an autistic/religious/working-class household, where there was just enough rebellion but way too much subservience. 
I plunder these symbols and language of arbitrary power structures, revelling in the leftovers, errors and redundancies. I flip between digital and analogue techniques to abstract, clip, collide and layer these elements. They coalesce into a wild-style-mind-map, a calligraphic vibrant web of visual fragments that resist and relinquish power.
A model cannon protrudes from a pile of rubble.
Soviet Pooh dawdles beneath an Ultra's burning scooter.
Potato-snack-based omens lie ensnared as kit-designs are ruined by sponsors.
I largely make this art for myself, to create an illogical nonsense, to refocus my intentions and thoughts. But for you, I want my work to induce a state where your certainties are thrown off-kilter yet inspire optimism and hope.
Join the mailing list to get regular emails featuring:
exclusive early-access to new works
peeks at work in progress in the studio
insights into the creative process, reflections and influences
and other good, meaningful stuff
(for which social media is woefully inadequate)
Your data will be kept securely and not given to anyone else. You can remove your details at any time.
See the Privacy page for more details.
CV
2022 — Bankley Open 2022 — Bankley Gallery, Manchester
2022 — TBH Cats (late + current) — The Edge, Manchester
2022 — round the corner, down the stairs — PaintingWriting, Manchester
2020 — Mcr Open — Home, Manchester
2019 — Paintings — Comme Ca, Manchester
2018 — Winter Exhibition — Comme Ca, Manchester
2015 — Les moissons de la cité — Space Collection, Liege
2011 — We Were Young and Immortal — Good Friday, Brussels
2011 — Space Collection — Atelierhaus, Aachen
2009 — Auckland Festival — Seed Gallery, Auckland
2009 — The English Lounge — Tang Contemporary, Beijing
2009 — Palais de Tokyo — Paris
2009 — Parcours St Germain — Paris
2009 — KSB — Markus Winter, Berlin
2008 — Two of you, among you, with you, TAG / My Life In Art, London
2008 — Tatton Park Biennial, Cheshire
2007 — Deptford X — London
2007 — Jeux de Mains, jeux de vilains, Good Friday, Brussels
2006 — Art Crazy Nation — Kulczyk Foundation, Poznan
2006 — post_modellismus — Kunsthalle, Bergen
2005 — post_modellismus — Krinzinger, Vienna
2005 — Art Craziest Nation — Walker Gallery, Liverpool
2004 — Lick Your Selves — Bloc, Sheffield
2004 — Crazius Craftus Creativus — The Reliance Gallery, London
2004 — Art Crazy Nation — Comme Ca, New York
2003 — Art Crazy Nation — Catto Contemporary, London
2001 — This Is Modern Art — Cornerhouse, Manchester
1999 — Gavin Turk's Rubbish — Decima, London
Grants
2021 — Arts Council England DYCP
Collections
Walker Gallery, Liverpool
Space Collection, Liege
Sandra Hegedüs Mulliez, Paris